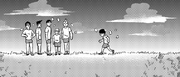 The Body Improvement Club (肉体改造部 Nikutaikaizoubu) is one of the clubs running in Salt Middle School. Musashi Gouda is the current club President and its other members include: Hiroshi Kumagawa, Ryohei Shimura, Hideki Yamamura, Jun Sagawa, Shigeo Kageyama and (unofficially) Tenga Onigawara.
Activities
The Club seems to do a routine of a 5 km morning run, squats and weight lifting exercises every school day. They also have days for solitary training.
Known Members
References
Ad blocker interference detected!
Wikia is a free-to-use site that makes money from advertising. We have a modified experience for viewers using ad blockers

Wikia is not accessible if you've made further modifications. Remove the custom ad blocker rule(s) and the page will load as expected.