Emi

Personal Details

Status
Alive
Race
Human
Height
Unknown
Weight
Unknown
Esper?
No

Professional Details

School
Salt Middle School

First Appearance

Manga Debut
Chapter 51
Emi (エミ, Emi) is a student at Salt Middle School.
Appearance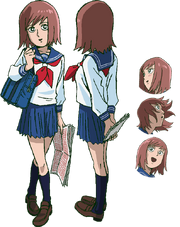 Emi is an ordinary looking girl with chin-length light-brown hair and short, side-swept bangs.
Personality
She is a questionably nice girl with an interest in books and writing novels.[1] She was grateful to Mob for retrieving and restoring her writings after it was torn up.
Plot
After Mob froze up in the president election, Emi asked Mob out.[2] For the next week, Mob would walk Emi home[3] until one day, she revealed that she had only confessed to him because she lost a bet.[4] Later on, she was with her friends and they teased her about her written novel before ripping it up.[5] Mob then appeared and asked the girls not to continue desecrating Emi's novel, saying it was important since she put her effort and feelings into it.[6] Emi then helped Mob pick up the torn pieces of her novel but they ended up blowing away in the wind.[7] However Mob retrieved the individual pieces and put them back together before revealing himself as an Esper.[8]
Quotes
References