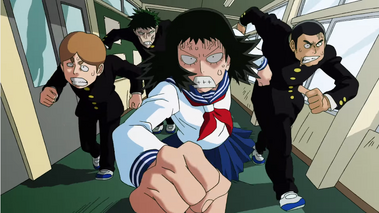 The Telepathy Club (脳感電波部 Noukandenpabu) is a former club at Salt Middle School. It was founded by Tome Kurata, who served as its president.
The club was disbanded after the student council found out that the club did nothing but play video games and eat snacks. Their club room was granted to the Body Improvement Club instead. However, the Body Improvement Club generously allowed the Telepathy Club to continue meeting in their former club room. As such, the club miraculously survived being disbanded, although it no longer counts as an official school club.
The Telepathy Club's goal is to telepathically communicate with extraterrestrial beings.
Current club members include Tome Kurata, Inukawa, Kijibayashi, and Saruta. A student named Takenaka used to be a member but left the club.
Ad blocker interference detected!
Wikia is a free-to-use site that makes money from advertising. We have a modified experience for viewers using ad blockers

Wikia is not accessible if you've made further modifications. Remove the custom ad blocker rule(s) and the page will load as expected.